Before we talk about the Best free HIIT workout app, let's figure out what HIIT is and what exactly the application should do.
So HIIT ( or high-intensity interval training) – is training with alternating short intense anaerobic exercises and active rest between them.
Such training is mainly performed with body weight, without any sports equipment and simulators. The advantage of such workouts – you can do it in almost any situation: at home, on the street, at the beach or at the gym. You can also include weight exercises in these workouts, but this is not a requirement. Much more important is the scheme by which this training takes place.
Why do you need the best HIIT workout app?
In order for the training to become HIIT, you must strictly adhere to its rules. Each workout should include several intervals consisting of Exercise and rest (and rest is always 2-3 times shorter than the exercise). Of several such pairs, the training itself is made up. Most often it is from 5-8 such pairs in a row. In order to stick to such a workout plan, you will need a HIIT clock app that will notify you when each interval ends and starts. You probably won't be able to get by with a normal watch for this, as you'll have to keep track of the time and it will be difficult to focus on the exercise.
The most effective high-intensity interval training (that was scientifically proven) is Tabata. it consists of 8 exercises for 20 seconds with 10-second breaks between them. Such a workout lasts only 4 minutes, but its effectiveness is incredible. If you are a beginner level, then one such work-out will be enough, so you can see the power of HIIT.
As for workouts, it would be nice to have ready-made sets of exercises combined into workouts. Of course, you can find similar lists of exercises on the Internet, but this is a rather boring activity that
Can you recommend the best HIIT workout timer app to use?
When you are adding HIIT into your life, you will definitely need a suitable and preferably the best HIIT timer app to help you move towards success. The choice of the timer depends on the selected type of training. It could be AMRAP(As many rounds as possible), EMOM(every minute on the minute), Tabata, or some other less popular. But we recommend you start with TABATA. And luckily we have the best HIIT timer app for you.
This app includes everything you need: training programs with different goals, tons of exercises, special music tracks and even collects statistics on your exercises.
Best free HIIT workout app you better install right now!
Tabata app is truly the best free HIIT workout app in the market. It has a pro mode, but the free HIIT workout program is also always available.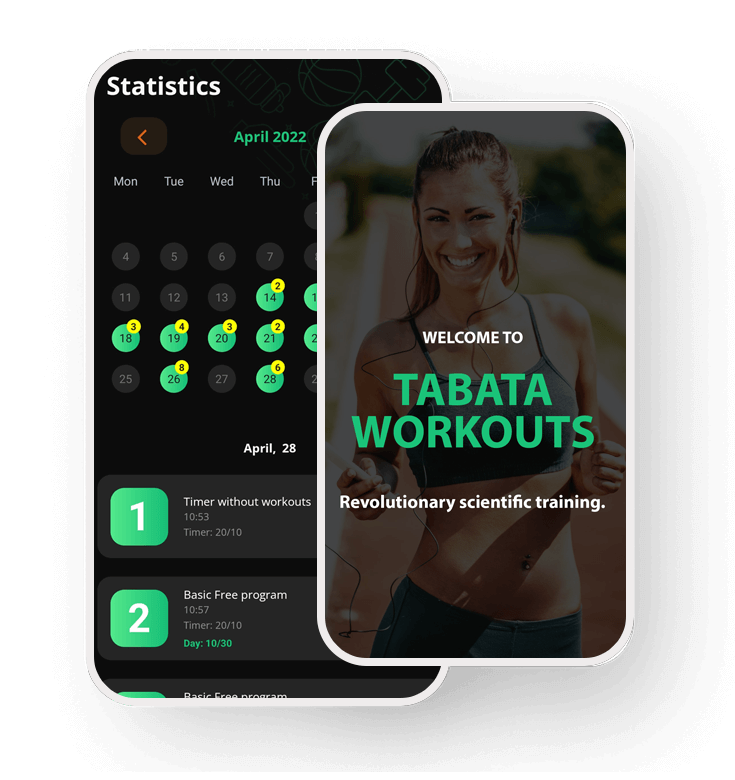 Paid workouts focused on working out individual muscles or achieving specific fitness goals. You should choose a PRO package if you know which of the specific goals you want to achieve and if there is more than one of them. Before the start of classes, we will determine your goals and select an entry plan. And then – it will be enough for you to do at least one workout per day to get used to physical activity. Then – you can increase the load to 4 TABATA workouts per day, which is an excellent set for constant training.
All workouts in this best HIIT workout app do not require any additional equipment or machines. The only thing you need is your body weight and level ground. As you move from the first workouts to the last in each program, their complexity will increase along with your strength and fitness, which means you will always be interested in training in your best interval training app.
If you liked one previously done training more than others, you could always return to it, since all of them will be saved. Immediately after the end of the workout, the application records information about the workout, program, and time in statistics. From now, you will not need to look for it in the future in the list of workouts – you can simply start your favorite workout again in one click.
Summing up, if you were looking for the best HIIT workout app – congratulations, you found it. Click on the links below, download, and train. We wish you success in your training and the achievement of your goals.